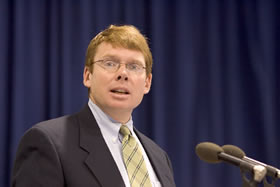 Dana S. Dunn,
Professor of Psychology

Dana S. Dunn is currently Professor of Psychology and Director of the Learning in Common (LinC) Curriculum at Moravian College. He earned his PhD in experimental social psychology from the University of Virginia, having graduated previously with a BA in psychology from Carnegie Mellon University.

A Fellow of the American Psychological Association (in APA Divisions 2 and 22) and the Association for Psychological Science, respectively, Dunn is active in the Society for the Teaching of Psychology (STP - APA Division 2). He will serve as President of STP in 2010. Dunn is a member of the editorial boards of several journals and is a frequent speaker at national and regional psychology conferences. He is currently a board member of the Eastern Psychological Association (EPA) and serves on the Program Committee for the National Institute for the Teaching of Psychology (NIToP).

The author of over 100 articles, chapters, and book reviews, Dunn writes about the teaching of psychology, rehabilitation psychology, social psychology, and liberal education. Dunn is the author of six books, most recently Using Quality Benchmarks for Assessing and Developing Undergraduate Programs (with Maureen McCarthy, Suzanne Baker, and Jane Halonen, in press, Jossey-Bass). He is also the editor of five "best practices in psychology pedagogy" books, including Best Practices for Teaching Beginnings and Endings in the Psychology Major (with Barney Beins, Maureen McCarthy, and Bill Hill, 2010, Oxford University Press). A sixth book in the series--Getting Connected: Best Practices for Technology-Enhanced Teaching and Learning in Psychology (with Janie Wilson, Jim Freeman, and Jeff Stowell)—is now in press. Dunn is currently working on several writing projects, including some new books.

At Moravian College, Dunn has held various leadership positions, including serving as Chair of the Department of Psychology for six years and Acting Chair of the Department of Philosophy for three and one-half years. As current Director of the LinC Curriculum, Dunn oversees Moravian's general education program. Dunn and his family reside in Bethlehem, PA.

An Interview with Dana S. Dunn