Geology Field Camp
During the summer of 1966, the Penn State Geology Field Camp was conducted at the Yellowstone - Bighorn Research Association (YBRA), which was located in Red Lodge, Montana. The group of student participants during that summer was led by professors Dr Perry Rahn (far left, rear row), Dr. Russ Dutcher (second from the left, rear row), and Dr. Barry Voit (who took the picture below with my camera). I am in front of the tree, wearing a hat with a brim. The photograph was taken at the Grand Canyon of the Yellowstone River, within Yellowstone National Park.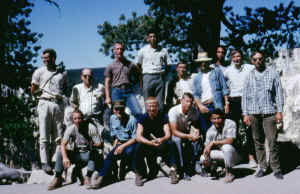 Click on the picture to enlarge.
Standing, left to right, rear row:
Dr. Perry Rahn; Dr. Russ Dutcher; Paul Diehl; Ali Al-Rubaiyi; Evan Schuster; Joe Gerencher (me with hat); Fred Swanson (behind); Jay Byerley; John Bauer.
Front row, left to right:
Joe Watson; David Schieck; Tuck Moorshead; Bill Stuart; Sadik Baker Jawad.
For a different photograph of the same group in the same setting, click here.