Meteor Crater, Arizona
(My 1969 visit)
(all photography by J. Gerencher)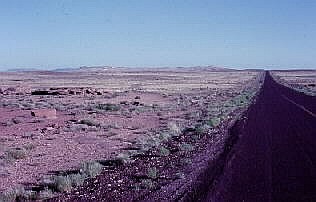 The raised lip of the crater can be seen in the distance,
to the left of the highway. The bright spot on the lip of the crater
is the visitor center / museum. The impact site is near Flagstaff, Arizona.

View from the bottom of the crater. Roof of museum
can be seen near the right edge of the picture just above
the crater rim. An abandoned drilling machine is in the foreground.
I revisited this site in 2005. Click here to see images from that visit.