Birkenau (Auschwitz II) Killing Center,
Brzezinka, Poland
(all photographs by J. Gerencher)
Located about only 3 kilometers (2 miles) from the Auschwitz I camp, the camp called "Auschwitz II - Birkenau" is located on flat, low, swampy ground in the former Polish farming village of Brzezinka. It is an enormous camp, covering over 425 acres and containing over 300 buildings, of which 45 brick structures and 22 wooden structures are still standing. Interior fences divide the camp into interior sub-camps. The total number of prisoners reached 100,000 in 1944. Approximately 1.6 million people (90 percent Jews) were murdered and burned at Birkenau.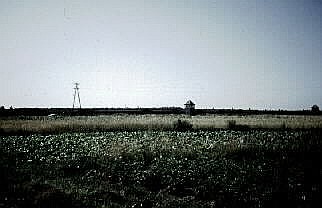 The camp administrative building, seen from the outside.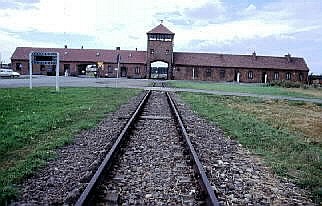 A single rail spur brought all the victims into the camp,
passing beneath the administrative building.
The rail spur was built from the main rail line, which ran nearby.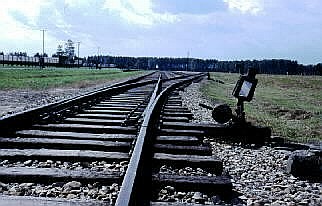 Once in the camp, the train tracks diverge into the
unloading and selection area (light area on ground).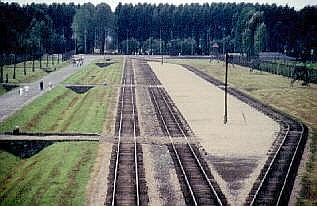 Telephoto view of the unloading / selection area,
as seen from the tower of the administrative building.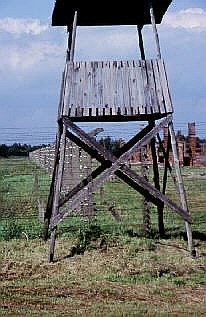 Guard tower within the camp for supervising the
unloading of prisoners from the train cars.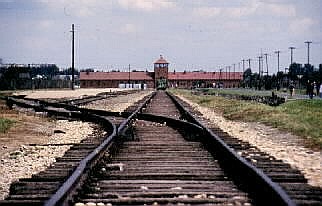 Camp interior, looking back to administrative building.
Selections for work or immediate gassing were made on light area to left.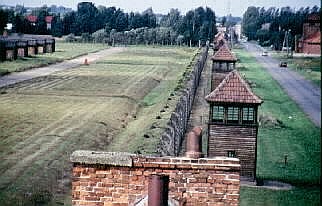 Perimeter fence with lighting and guard towers, seen from
main tower of administrative building.

Detail of guard tower, which is located outside
electrified barbed-wire fence.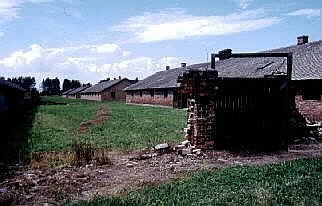 Brick blocks were built directly on the ground
without foundations or floors.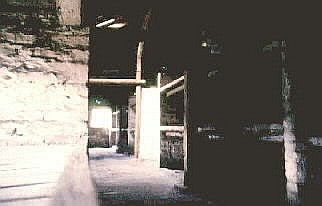 Interior of brick blocks. Dirt floor became mud in wet weather.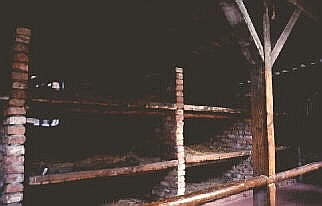 Interior of brick blocks, showing sleeping shelves.
Approximately eight people were force to share each shelf.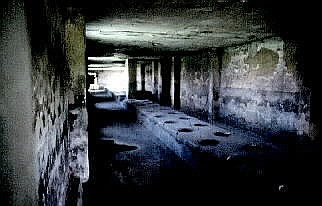 Latrine interior.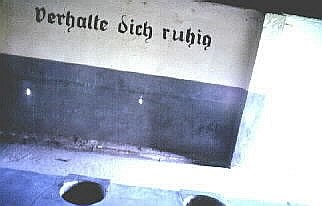 Inscription on wall of latrine interior translates as "Stay Calm."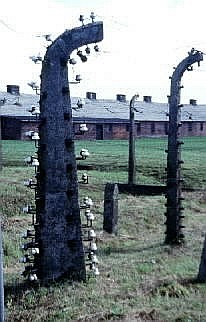 Electrified barbed-wire fences separate
sub-camps within main camp.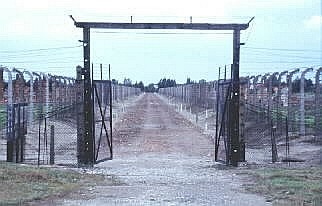 Path leading from selection area to gassing facilities.
Of new arrivals, approximately 70 to 75 percent were gassed
within a few hours of their arrival.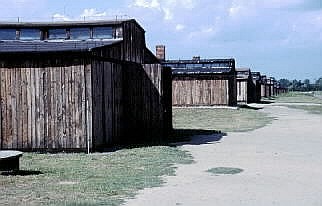 Wooden blocks for prisoners were built without floors or foundations.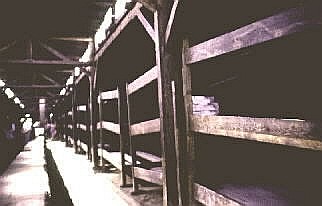 Interior of wooden blocks for prisoners.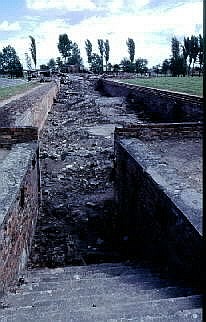 One of four gassing facilities / crematoria which were destroyed
by the fleeing SS guards as the Russian army approached.
For 100,000's of persons, these were the last
steps they ever walked on.

Layout of Birkenau. Train enters from bottom,
left of center, along heavy dashed line.