Manzanar Relocation Camp, California
(all photography by J. Gerencher)
The Manzanar National Historic Site was established in 1992 to preserve the historical, cultural, and natural resources associated with the relocation of Japanese Americans during World War II. Located along US 395 within the Owens Valley of California, between the towns of Lone Pine and Independence, it is one of several centers that held a total of approximately 120,000 Japanese American persons. A list of Japanese American relocation centers, in order of opening date (starting 5/8/42), and with population indicated, is as follows:
Poston, Arizona 17,418
Tule Lake, California 18,789
Manzanar, California 10,046
Gila River, Arizona 13,348
Minidoka, Idaho 9,397
Heart Mountain, Wyoming 10,764
Granada, Colorado 7,318
Topaz, Utah 8,350
Rohwer, Arkansas 9,475
Jerome, Arkansas 8,497
other camps were located in
Fort Missoula, Montana
Santa Fe, New Mexico
Lordsburg, New Mexico
Fort Lincoln, North Dakota
Crystal City, Texas
The Manzanar camp covered an area of 555 acres, which is slightly less than one square mile. When occupied, the camp had been surrounded by a barbed wire fence and had eight guard towers located just outside the fence, one at each of the four corners and one in the center of each of the four sides. Neither the fence nor any of the guard towers remain at the site today.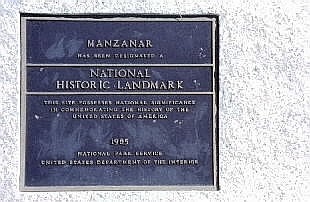 Sign at entrance to Manzanar relocation camp.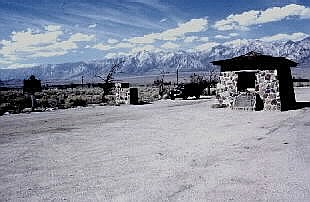 Entrance to Manzanar relocation camp.
Sign in first photograph in front of building.
Sierra Nevada Mountains in distance.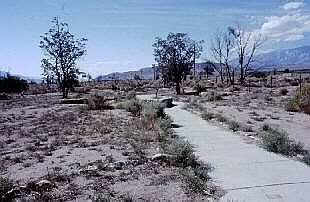 Remains of walkway within Manzanar camp.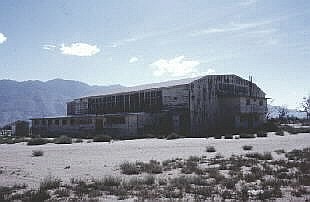 Community center building of camp was used to garage
vehicles from highway department after camp closed.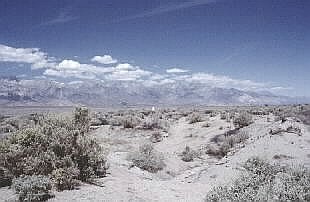 White pillar marks camp cemetery at rear of camp.
Sierra Nevada Mountains in background.
Memorial white pillar at camp cemetery.
The Manzanar camp opened 6/1/42 and closed 11/21/45. The last Japanese American relocation camp was closed on 3/20/46.