I have been part of Moravian College Art Department since 1987.
Before this, I taught high school for the US Army in Germany.
I received my bachelor's degree from Virginia Commonwealth University,
studied in Germany at Boston University Overseas, and received my
master's from St. Joseph's University. I teach art history part-time as
well as perform various administrative tasks, including planning art trips,
co-advising the Art Club, and organizing exhibitions for the HUB Gallery.
As an art historian, I teach art history survey, History of Architecture,
and American Art; I give lectures to community groups on a wide
range of art-related subjects, from Leonardo to King Tut.
As an artist, I specialize in watercolors of homes and historic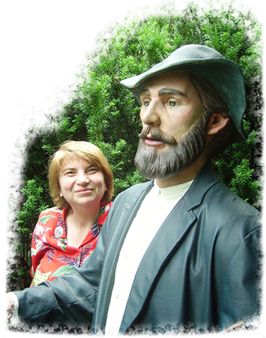 buildings in a style inspired by the sincerity and attention to
detail of American folk art. My paintings can be found in the
collections of many area businesses, and I also do many paintings
on commission for home-owners. In 2005, I had a solo show at
Reading Area Community College. In 2006, I participated in the
"Serious Business" show at Northampton Community College.
I am a regular participant in the Bethlehem Sidewalk Show,
the West Park Art show, Tinicum Park in Bucks County,
and other regional art festivals. I also participate in Moravian
College exhibitions and events.
Jan with "Claude Monet" at the Grounds for Sculpture, Hamilton, NJ