Location of Moravian College
Bethlehem, PA, USA
Moravian College is located in Bethlehem, Pennsylvania, about 10 miles from the border of New Jersey.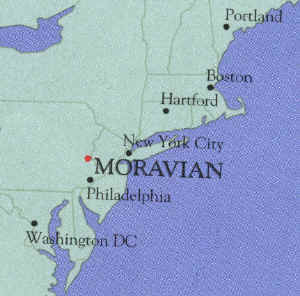 The seismometers are located in the basement beneath room 106, the Earth Science laboratory/classroom within Collier Hall of Science. This science building is located on Main Street, one block south of the intersection of Main Street and Elizabeth Avenue, well within the urbanized area of the city of Bethlehem. Street traffic and the mechanicals within the building (elevator, furnace, air conditioning, air circulation fans, etc.) create an elevated level of background seismic noise. However, most of this background noise resides in the higher seismic frequencies (the shorter periods), so the long-period system is less adversely affected by this background noise than the short period system. Although the urban location is far from ideal, and although none of the seismometers contact bedrock, my experience these systems at this site is that the hardware can be adapted within the amplifiers and the signal can be processed within the software to sufficiently suppress the background and yield reasonable seismograms.

View looking south on Main Street.
Collier Hall of Science is on the right.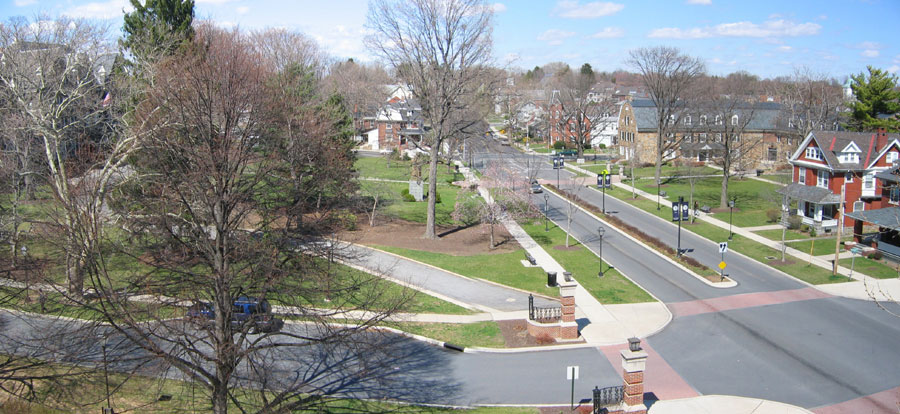 View of Main Street, looking north, as seen from the roof of Collier Hall of Science.

The geographical coordinates of the seismometer site are
latitude: 40 degrees, 37.8 minutes North
longitude: 75 degrees, 23.0 minutes West
altitude: 350 feet