Field Trip #3
Glacial Field Trip
(Click on images below to enlarge)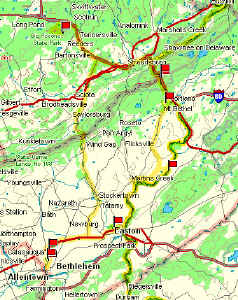 (Source: DeLorme 3-D TopoQuads)
Field trip #3 explores the area to the northeast of Bethlehem. The locations of the stops are indicated by the red flags on the above map.
Stop #1: Monocacy Park near Moravian Campus
Stop #2: Camel's Hump at intersection of PA Route 512 and PA Route 22
Stop #3: Road cut outcrop near PA Route 22 exit near Easton.
Stop #4: Martin's Creek PPL Power Plant on Delaware River
Stop #5: Eastern Industries Gravel Pit along Jacoby Creek Road near Durham
Stop #6: Delaware Water Gap along PA Route 611
Stop #7: Summit of Mount Pocono
The main theme of field trip #3 is the modification of the landscape due to the most recent glaciation. Sub-themes include the following:
Stop #1: Monocacy Creek: Stream Behavior Past and Present
Stop #2: Camel's Hump: A Very Significant Minor Hill
Stop #3: The Exciting Precambrian / Cambrian Contact
Stop #4: PPL Martin's Creek Power Plant on Terminal Moraine
Stop #5: Ice / Water Depositional Features
Stop #6: Delaware Water Gap: Structure, Topography, and History
Stop #7: Mt. Pocono Summit: "Appreciation" of Glacial History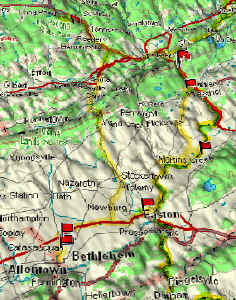 (Source: DeLorme 3-D TopoQuads)
The relief map above shows the field trip route. After several stops on the floor of the Lehigh Valley, the trip passes north of Blue Mountain at Delaware Water Gap and continues north into the Pocono Mountains and climbs to the top of the Pocono Plateau at Camelback Mountain. It then returns south by crossing Blue Mountain at Wind Gap.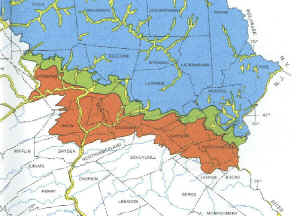 (Source: PA Geological Survey)
The above map shows the glacial deposits in Eastern Pennsylvania. The deposits colored rust and green on the map are from previous glaciations and will not be investigated on this field trip. The blue on the above map is from the last incursion of the ice and is the focus of this trip. During this last glaciation, the ice was within the borders of Pennsylvania from about 22 thousand to about 17 thousand years ago, a period of 5 thousand years. The climate in Bethlehem during that time would have been similar to that which is found today in the Canadian arctic.